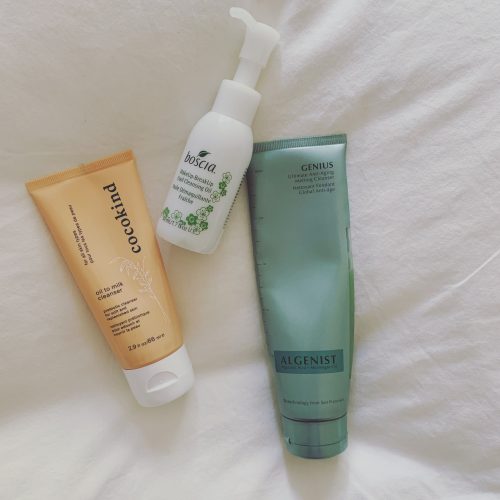 Who has tried oil cleansers?
If you haven't, then you need to because they are game changers. The oil cleansers melt away oil, sunscreen, and makeup off your skin and just leave it so clean.
I've got a new Cocokind oil to milk cleanser from Shoppers Drug Mart which works especially well with a cleansing cloth. ($24.99 at Shoppers Drug Mart.)
The Boscia Makeup Breakup Cool Cleansing Oil smells amazing – like a spa- and easily emulsified everything. ($42 for a full size, the image in the picture was a travel size at Sephora.)
The Algenist Genius Melting Cleanser is maybe my favourite because it washes away completely clean even without a wash cloth. ($50 at Sephora.)
Oil cleansers are for all types of skin types.  If you have oily skin, they are great for working with the oils in your skin to take them off.  If you have combination skin, they work to get everything balanced, and if you have dry skin then they cleanse without stripping.  My least favourite kind of oil or balm cleanser is one that doesn't leave a residue, and none of the above do.