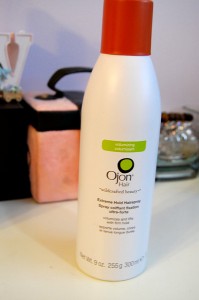 Ojon Extreme Hold Hairspray has some pretty cool ingredients, like soy and wheat proteins for volume, and jojoba, babassu and macadamia oil for shine.
It also contains shea butter, which sounds like it would create a greasy mess. But surprisingly, this hairspray helps create really fabulous volume without being crunchy or greasy in the least. As far as hold goes, Ojon does a really good job with hold that lasts all day, even when it's humid or hot outside.
My beef with Ojon Extreme Hold Hairspray is the scent.
It has a very strong powdery, amber-vanilla scent that I hate, but some people love. The scent does not dissipate throughout the day, so if you hate it, like I did, don't expect it to fade.
But if you love it, more power to you, because this is a pretty fabulous hairspray. Use it with Guerlain's Shalimar perfume, which you'll also probably like because it has a similar amber-vanilla scent.