Keratin and keratin-free smoothing systems have been hitting the market left, right, and centre, and new to the game is Ojon's Super Sleek Hair Straightening System. The brand offers a somewhat safe system that can be used at home and isn't supposed to be terribly bad for the hair.
Before going much further, I'll say that I had a Keratin-free smoothing treatment done at the salon last August, and though it looked good for a week, it left my hair terribly weak and thin. Months after the treatment, I'm still waiting for my long locks to grow back completely. The brand that people are most familiar with when they think of Keratin treatments is Brazilian Blowout. The brand had negative press because of their use of formaldehyde in the formula. It's an ingredient that could be a possible carcinogen and is partly to blame for the awful smell that Brazilian Blowouts had. With the downfall of Brazilian Blowouts, other brands came out with their own formaldehyde formulae (and I tried one) but it turns out that the formula just turns into formaldehyde gas when heated. That steam that comes off your hair during your straightening process – not good. The heating is necessary to straighten your hair, and so it seems as if there really isn't escaping from a formula that does a certain amount of damage to your hair.
If you're interested in finding out more information, check out the Environmental Working Group website.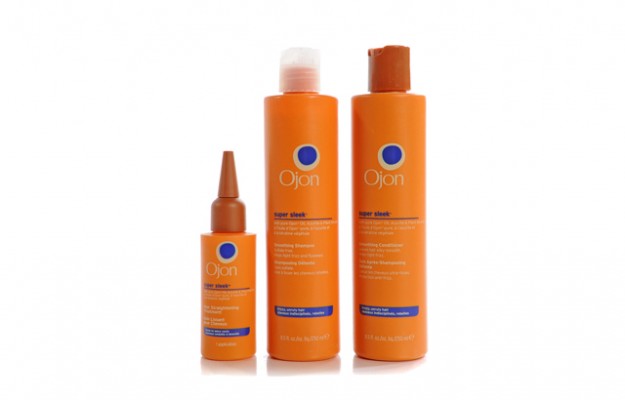 Regardless, when Ojon came out with their own Super Sleek Straightening System, I was intrigued. I got ready to try the straightening treatment, which is supposed to be formaldehyde-free, and not as bad for your hair. However, as soon as I opened the bottle of straightener, the smell told me that all was not well. My suspicions were up, I couldn't find a list of ingredients for the system on the internet, or anywhere else, and an email to Ojon's customer service went unanswered.
So, I passed on the actual Smoothing Treatment.
Instead, I kept on using the shampoo and conditioner, which are $27 and $28 respectively on TheShoppingChannel.com, and are formulated to be gentle yet smoothing and cleansing on hair. They are sulfate-free, and formulated with Ojon oil so they condition as they work. My super fine dry hair just soaked up the conditioner, and I found that it was nearly impossible to use too much of the stuff.
The verdict on Ojon's Super Sleek Hair Straightening System remains to be decided, and because of my already fine and delicate hair, I'm not going to try it.
Have you tried an at-home hair straightening system? What was your experience with it?