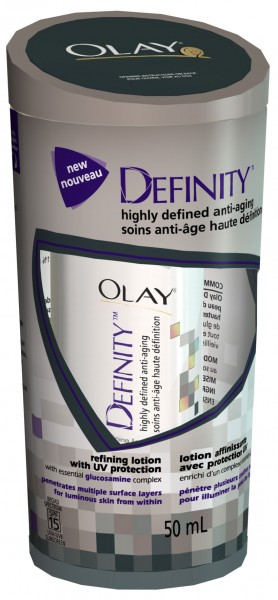 One of my major pet peeves is seeing the gamut of anti-aging and skin refining creams on the market that don't have UV protection in them.  Why would you want the customer to purchase a separate product for that, or worst, go to a brand that does offer the UV protection?  Why not at least offer a formula with the SPF and one without so that your customers have a choice?
In any case, as you can tell, that is one of the things that is important to me in a day cream, and that's why I turned to Olay Definity Refining Lotion with UV Protection.  Yes, it only has SPF 15, but it's better than nothing so I'll take it!
To be honest, I was initially wary of even trying this lotion because Olay products have given me clogged pores in the past, but I just couldn't resist the chance to try a lotion with SPF and the added benefits of glucosamine which Olay claims can lead to more clear and even skin tone.
After a few weeks of using this product, I have to say that I love using it, but it doesn't have an effect on my skin tone.
I found that this is a nice creamy lotion with shimmer in it so it leaves your skin really glowy in a pretty way.  I kind of wish that I was using this in the summer and with a higher SPF, because it would really make for a pretty no makeup look.
This is a really moisturizing lotion so it did leave my skin feeling comfortable and plumped up in the extremely dry winter weather.  I do not think that I would want something this creamy in the summer, but if you have dry skin then you will love this at any time of the year.
My makeup went on beautifully on top of this, and because it's so creamy, I don't need a makeup primer when I use this.  I actually found that this worked just as well as a primer when it came to leaving my makeup in place for most of the day.  My foundation was able to set as usual, and I really had no trouble with using this lotion.
If you are in the market for a nice moisturizer with sun screen in it, and especially if you want a glowy look without wearing any makeup, then this is a fantastic product that you should definitely try.