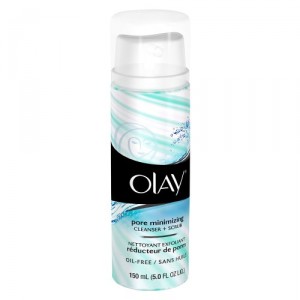 I have an elaborate before bed routine: I clean with a cleansing oil and then follow up with a scrub and then I like to use a foaming cleanser to get all the residue off.  I also follow up with a toner and moisturizer of course, and I think the major cleaning means that I have fewer clogged pores.
But now, I can cut out one step thanks to Olay's Pore Minimizing Cleanser + Scrub.
This is a foaming cleanser that also has tiny beads in it that exfoliate your skin as you wash it.  Unlike most foaming cleansers, this is not drying at all thanks to the addition of glycerin in the cleanser.  It leaves my skin clean and polished in just one step, and I like using it so much that I start my day off with it too.
They say that this minimizes the appearance of pores, but I can't say that I've noticed that.  The only thing that can really minimize the appearance of pores is a good dusting of makeup, and a cleanser really isn't going to do it for you.  But if you want a cleanser and scrub that's not drying all in one product, this is a good way to go.
This is available at drugstores everywhere.