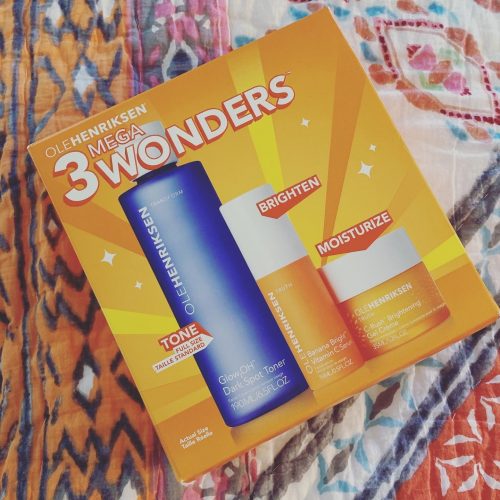 The latest on my bathroom counter are the three products in this Ole Henrikson 3 Mega Wonders set.  What I love about this set is that all these 3 products are meant to work together.  The toner is a full-sized glycolic acid deal, and yes, it tingles when you apply it.  Given my skin is a little sensitive because of 3 days of straight retinol, but still. It's nothing I can't handle but beware of it.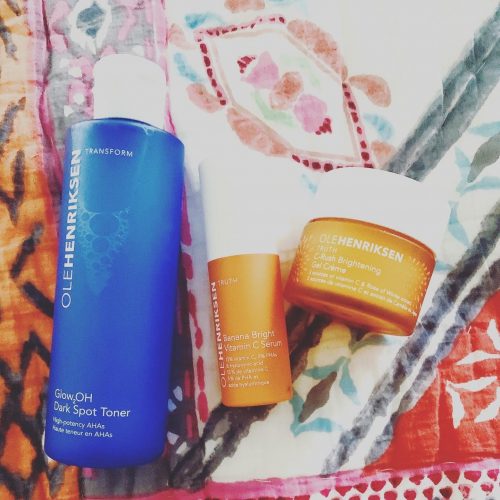 The Banana Bright Vitamin C Serum and the C-Rush Brightening cream are not full-sized products but there's lots in there.  You'll have enough product for a week or two and you can see if you like them before purchasing the full size.  Personally, I'm not a huge fan of the Banana Bright serum because it pills when I put sunscreen on top but that might also be because I put too much of it on my skin. Still.  Anything that messes up my skincare routine in the morning and messes up with my sunscreen isn't good.
Love this set though for the concept and for the fact that you get 3 products that actually work well together!
You can get it at Sephora for $98.
Enjoy!
Oh, and I use this in the morning only – all three of the products.  I like to use retinol at night time, and acids and vitamin C products don't usually work well with retinol.  You could use the two on alternate nights, if you're not using retinol every single night anyway.