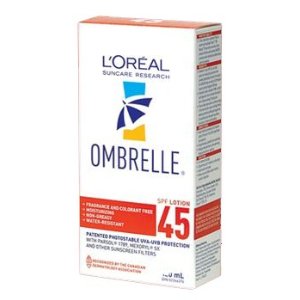 The very first thing I found with L'oreal Ombrelle sunscreen is that it doesn't absorb. Like, at all. It kind of sits on top of the skin in a sticky layer, all day. (For real. I put this sunscreen on at 11 a.m. this morning, and it's 7:38p.m. right now. It's still pretty sticky.)
Ombrelle contains both chemical and physical blockers, which some believe will raise the sunblocking power of this sunscreen. It does go on a little white because of the titanium dioxide in it, but that's pretty standard with most sunscreens anyway, and it does go away with a little rubbing.
I didn't hate this sunscreen. When I used it on my face, I didn't need extra moisturizer, but it did need to be set with powder because it didn't absorb. On my neck it remained sticky for the entire day.
As far as drugstore sunscreens go, I still prefer Neutrogena Ultra Sheer dry touch sunblock, which is similar, but with less sticky, pore clogging potential.