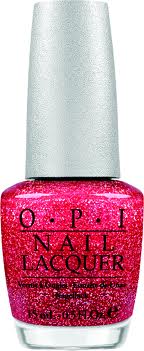 Check it out. One coat goes you a little sparkle and two would give you a lot. I was in the mood for black nails so I paired this with YSL Shiny Black nail polish and was happy with the touch of festive glitter. It didn't chip off as much as two coats would have so that was a plus.
DS Bold has a red jelly base, and lots of red and silver glitter.  Two coats will give you opaque coverage.
I really liked this colour because it's nice and Christmasy but still very trendy with all the glitter.  The last thing I'm in the mood for this holiday season is another creamy bright red polish.
What do you think?  Do you love?  What are you wearing these days?