So this nail duo that you see below is totally my jam right now.
OPI's Infinite Shine system absolutely does deliver.  Actually, the system doesn't have two parts to it – it has three.  What's missing in my image is the colour aspect of the system.  Yes, there's OPI Infinite Shine nail colour, and the idea is that you use the primer, colour, and top coat together to get really shiny perfect nails that last a long time.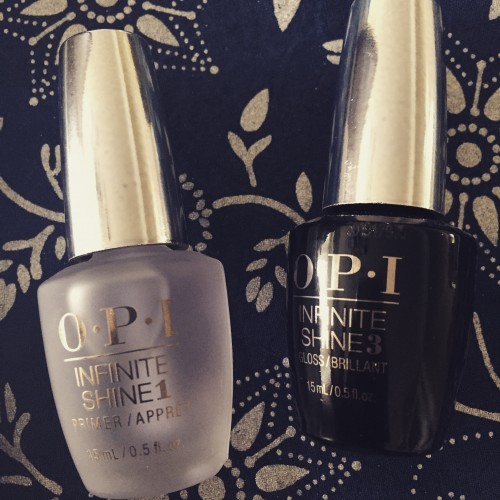 As I mentioned, the system does work.  The nail colour is super pigmented and goes on smoothly, the primer is a good one, and the shine top coat is super shiny and really locks everything in.  I love it. It's working a bit better for me than Vinylux which has been my go-to for long-lasting nail polish.  I like that this system has a primer because it means that my nails don't get stained the way that they do with the darker colours of Vinylux.
The true test however: I used it with a nail polish that wasn't OPI Infinite Shine.  I used it with Dior Lady which is my absolute favourite colour of nail polish right now.
The lasting power wasn't as great as it is with the OPI Infinite Shine nail polish, but it was better than other systems I've tried and it was definitely better than just using the polish on its own.
What I love most about the system isn't just the lasting power – to be fair, I had major tip wear after a couple of days and a little chip on day three, but it was something that I could live with.  What I really love is the overall lasting shine of the top coat.  My nails look amazing, especially on my left hand and they look flawless from a distance, which I think is pretty good.
You remove this polish just like you remove regular nail polish so there's not much damage to your hands – just use a good nail polish remover and you'll be good to go!
In case you're interested in some of the other colours available, here they are: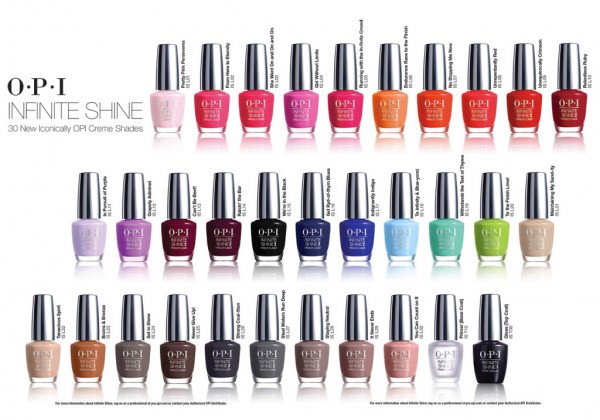 Pick up the polish at salons.