…so, I went away for the holidays and I was SO done with everything.  The blog wasn't acting the way it should, I deleted a bunch of things accidentally and then had to bring them back… and well, it was just too much and I was going away anyway, so I thought I'd give myself a break.  And now I'm back, and it feels so good to be back!  I feel tired, sore, but still refreshed.
I've started sorting through packages and product, and I've got to tell you about the OPI Infinite Shine Iconic Shades – these are some of OPI's most well-loved shades that are now available in the Infinite Shine formula.  There's You Don't Know Jacques, Dulce de Leche, and Alpine Snow, Lincoln Park After Dark, Russian Navy, and lots of others that you have for sure used or heard about.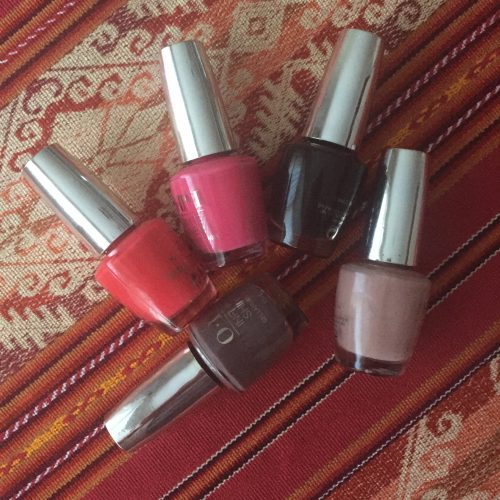 The natural-looking colour above is Dulce de Leche, then Lincoln Park After Dark, then Strawberry Margherita, Cajun Shrimp, and You Don't Know Jacques.  Finish is great for all of them – good coverage with one coat, and great coverage with two.  Wears for atleast 5 days with no chips and 7 days sometimes.
The collection features 30 permanent shades that will be available in September.  You can check out all the colours on the OPI website.  This collection retails for $12.50 each ($16.95 CAN) and will be available at professional salons, Beauty Brands, beautybrands.com, Chatters, Dillard's, Regis, ULTA Beauty and ulta.com.