I love the OPI Infinite Shine formula; it is so long lasting and the colours that I've been trying are amazing.  They are well pigmented and have been going on quite smoothly.
The summer collection has a nice mix of bright and pale colours and I know I'm late about posting this collection but the colours are still available at your favourite OPI-carrying salon.  I'm gravitating towards the pale colours – they are more my style.  I love white nail polish, but it's more refreshing to have an off-white or almost white pink on my nails.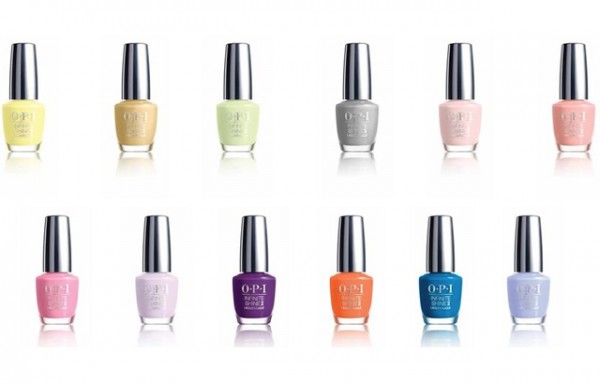 The colours are:
Silver on Ice – cool silver; Patience Pays Off – nude pink; You're Blushing Again – pale pink; Follow Your Bliss – pretty candy pink; The Sun Never Sets – Tangerine; Bee Mine Forever – honey yellow creme; Enter The Golden Era – gold; S-ageless Beauty – sage green; Wild Blue Yonder – cornflower blue; To Be Continued – periwinkle blue; Lavendurable – lavender; Perpetual Emotion – eggplant.
Here's Patience Pays Off.  It went on pretty smoothly and two coats look amazing.  Of course, this is topped with the Infinite Shine top coat, but I used Nail Envy as a primer.  The polish still lasted seven days.  This was my favourite shade from the collection.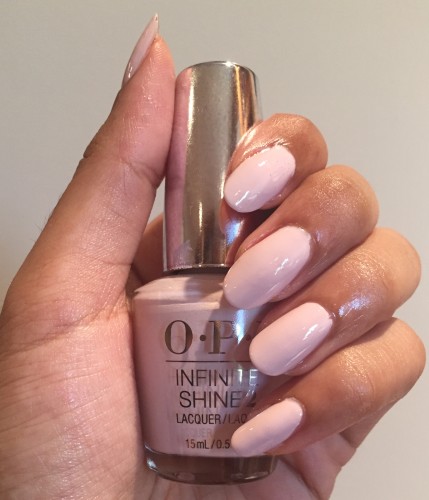 Here is You're Blushing Again.  It's a peachy pink and a gorgeous colour.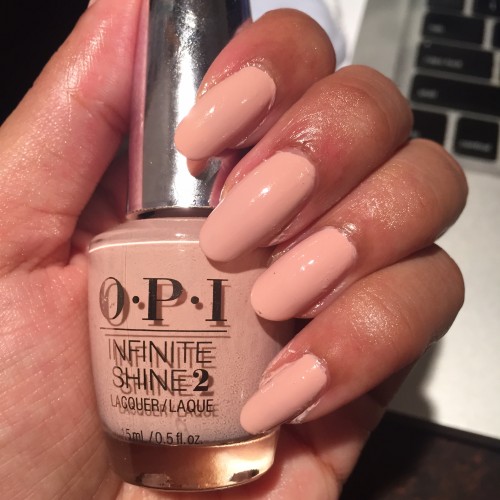 Yes, my nails are super long – that's thank to the Nail Envy as a base coat.  This is about eight weeks of growth with just filing.  No more long nails after this: I scratched myself twice and so took this as a sign that it was time to give up the long nails.  Plus, it was pretty difficult to type….
OPI Infinite Shine shades retail for about $15.  When used with the top coat, they last much longer than regular nail polish.