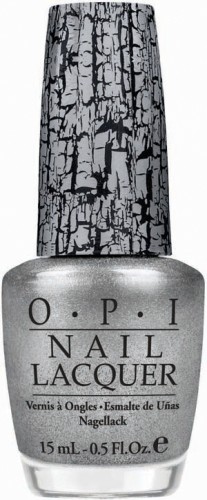 Remember how I told you about OPI's Pirates of the Carribean collection way back when?
Well that collection, which comes out in May, also includes a new colour of OPI's Shatter. It's a silver shade, and it's going to be popular. When the black shade was out this winter, I couldn't get my hands on it because it was literally sold out everywhere.
Well, I was lucky enough to get my hands on my own bottle of OPI Silver Shatter and I've been playing with it. The polish is amazing. You just put one coat on top of dry nails, and within about 30 seconds, the polish just shatters by itself. The polish is a bit matte, but you can put a top coat on it, and get a long-lasting glossy look.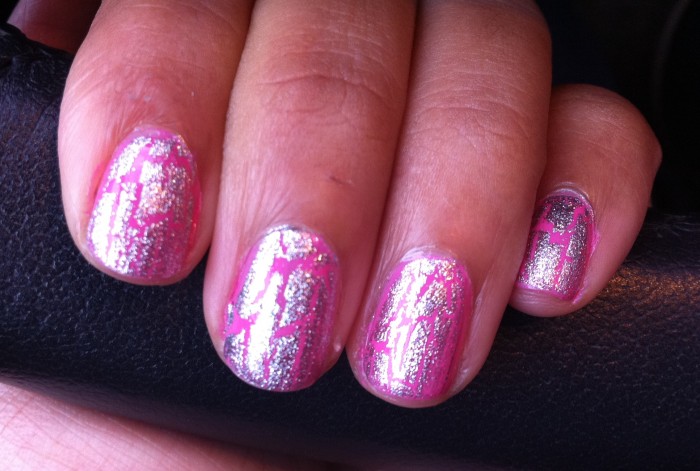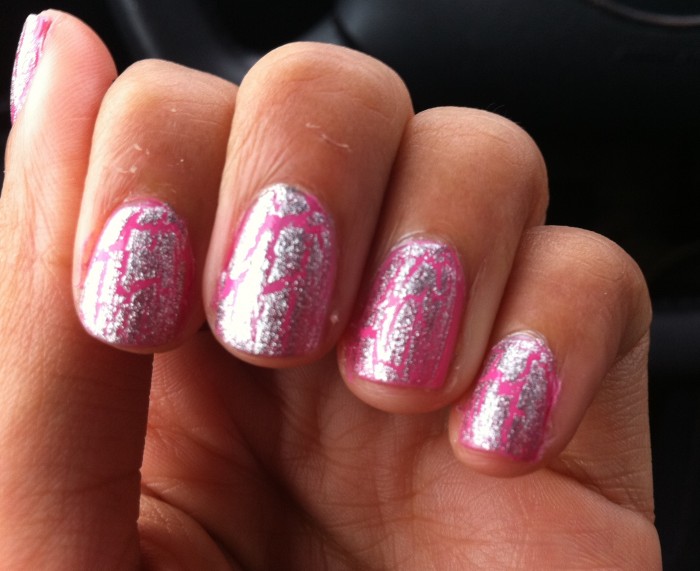 In my picture, I used Silver Shatter on top of MAC's Pink Wave, which is an old colour. I really liked the hot pink peeking through the silver.
I've had a few oohs and aahs over this manicure, which of course, I'm thrilled with. This is a nice manicure for everyday, even for work, but I know that I'll get tired of it after a while.  In Calgary, this is clearly the hottest thing since black nail polish, because this week I got tons of questions from strangers asking where they could find the polish, and every salon that I've been to has been completely sold out.  The polish comes out in May, but apparently some salons had it from an earlier collection.
I have no doubt that this will sell out even faster than the black Shatter did because it's a more wearable colour.
Also this silver will look amazing over some of the bright colours in the Pirates of the Caribbean collection. Both are available this month!