This summer OPI has released six new neutral shades of nail polish in their Infinite Shine formula, and they are everything!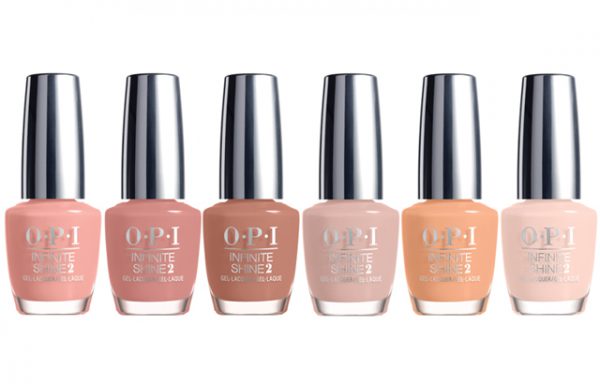 Colours above (from left to right) are:
Don't Ever Stop – Salmon
Hurry Up and Wait – tan
No Stopping Zone – dusky brownish rose
No Strings Attached – beige nude
Can't Stop Myself – creamy peach
Staying Neutral on This One – light, slightly sheer, peachy pink
I'm a huge fan of neutral polishes because they take you everywhere.  They're on trend, can go from morning to night, and put the focus on hand jewelry instead of your polish.  I definitely love wearing on-trend colours too, but sometimes I like the low-key elongating look of a good neutral polish.
The fact that OPI has six shades means that there are options for all skin tones.  This polish won't look just like your skin tone, but it'll just be a natural nail colour option.  I like the darkest shade (I wore it in this Youtube video and showed all the shades), and it's still lighter than my skin tone.
All the colours apply evenly, and with someone of them, I could get opaque coverage with just one coat of nail polish.  They last a long time if used with the Infinite Shine base coat and top coat, and the best part is that because they look so natural, you can barely see any grow out or chips, so your manicure looks flawless… even when it's not!
They are $16.95 each, and available wherever OPI polishes are sold.  No Stopping Zone is definitely a favourite of mine!