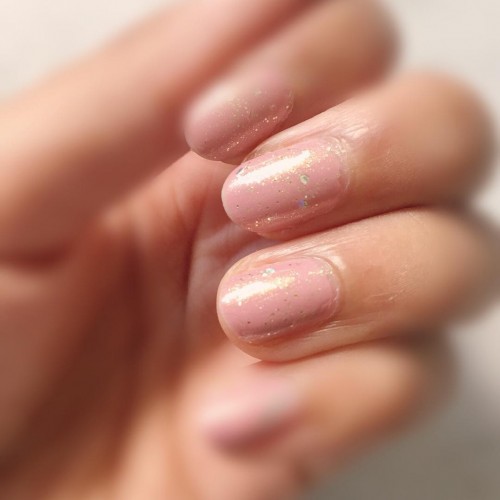 So the pink in the manicure you see above is actually OPI's Nail Envy Treatment in Hawaiian Tropic.
Truth be told, I'm a newbie to Nail Envy but there's lots of anecdotal and photographic evidence floating around on the Internets toting its actual magic, and now here's mine.
Nail Envy used to be just clear and comes in different formulas – there is one for making nails stronger, and another for making nails longer.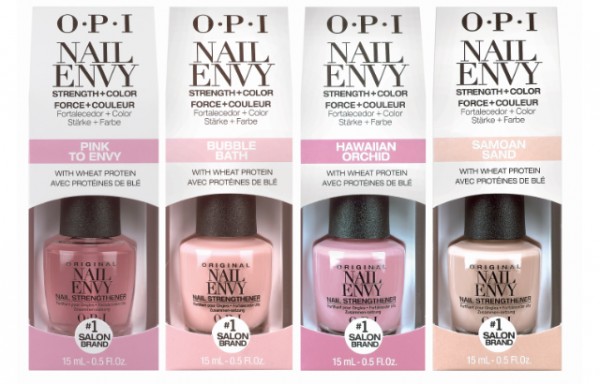 Now, it comes in four different colours too so that you can add colour while treating your nails.
Generally speaking, my nails are pretty healthy but they do break because of all the typing I do… that probably makes sense.  That said, I really like the long nail trend and am not going to invest in gel nails, so it seems that a nail treatment is something I need to add to my regimen.  I was pretty happy to try the different shades of Nail Envy to do this.
The new colors are:
Hawaiian Tropic – the pretty mauve/pink above. This is full coverage opaque cream.
Bubble Bath – sheer pale pink.  Easy to wear and good to use as a base.
Samoan Sand – very versatile sheer beige and a favourite for many.
Pink to Envy – clear pink
I like opaque polish so it goes without saying that Hawaiian Tropic was my favourite colour and one that I'll wear again and again.  It's just so pretty and perfect for so many occasions.  I'd use the other colors as base so that I can get the treatment and then apply some nail polish on top.
I have found that using Nail Envy has helped me to grow longer nails without breaking them – I feel like I may be jinxing myself in writing that statement but my nails wouldn't be as long as they seem above without Nail Envy!  They usually break by now and they haven't yet!  I've only used it for about 3 weeks but I've seen a difference, so I'm liking these polishes.
They retails for $22.50 at nail salons only so look for them there, or ask for your manicures be done with them.