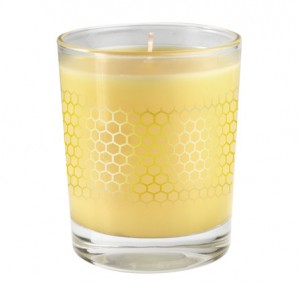 When I have company over, or if I'm just relaxing at home, I like to light a yummy scented candle.
My latest favourite is the Orange Blossom Honey candle from Yves Rocher.  This candle is on the small side, but it's got a powerful scent.  So much so that even when it's not lighted, those that come near it says "mmm!  Something smells good!"
The candle smells sweet because of the honey, but also fresh and tarte because of the orange blossom.  It doesn't really smell like food though, which I love.
The candle comes in a glass holder and costs $10 at the Yves Rocher store or online.