Seriously, even if you don't like the juice inside, the bottle for Oriens, Van Cleef and Arpels, is good enough for any vanity.  Probably the most beautiful bottle I have ever seen, the bottle certainly makes a statement.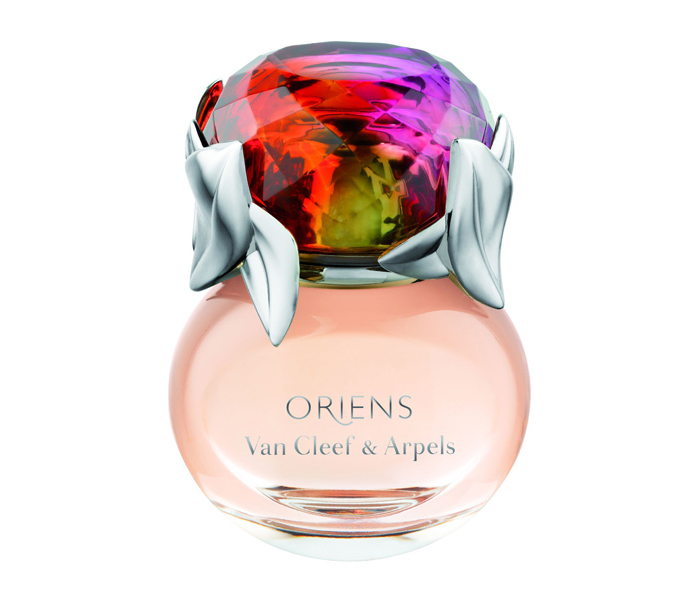 The cut glass top was inspired by a tourmaline ring from the Van Cleef collection.  Thus, the perfume house links the perfumes that it makes with the jewelry that it is renowned for. The bottle (and its glass top) is heavy in the hand, and is altogether substantial. You can tell that the scent is from a luxury house and not from the drugstore.
Despite the name Oriens,the scent is not oriental – there are no spice blends and amber notes to be found, and instead the scent is a fruity and floral, with a drydown of patchouli.  The opening note is of candied orange that's quite sweet at first, and then a soft jasmine middle note comes through.  The patchouli is hardly noticeable in the dry down and the fragrance stays more true to its gourmand nature with a sweet caramel-like cocoa blend.
Overall, the scent is a gourmand but subtle and totally wearable.  I always complain that fragrance turn so sweet on my skin, and for some reason, despite all the sweet notes in this scent, I didn't have that problem.
The scent will be available as a EDP spray and a body lotion.  100ml of the EDP is $195, 50ml is $145, and 30ml is $110.  The body lotion retails for $72.