On Oct. 3, 2013 Rihanna's fall collection for MAC comes out on counters.  The colours reflect the colours that are around us: cocoa based eyeshadows and lip products, and a bronzer/blush duo that works in every season.  The packaging is rose gold and pretty enough to collection.
I've seen the packaging, and I have to say that it really is beautiful.  The rose gold looks and feels different from most other MAC packaging, and I'm glad that this wasn't just a sticker.
I have the Diamonds Cream Colour Base, and I was really excited to try it, but I have to say that it's not very pigmented and provides a very gentle highlight – great if that's what you're looking for.  It would work well to add some pop to already 'done' cheeks or lips, and on its own it will make skin look just dewy.
Here's the entire collection – all colours and prices listed below.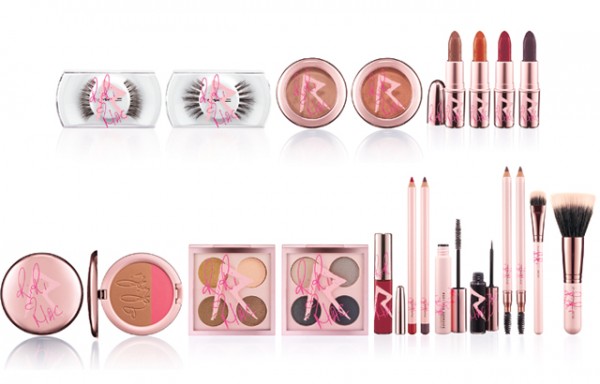 Eye Shadow X 4
Her Cocoa
smoked cocoa
SRP $44.00 US/$52.50 CDN
Lipstick
Nude cool nude cream (matte)
Who's That Chick mid-tone orange with frost ( frost)
RiRi Woo matte cool red (retro matte)
Talk That Talk matte dark plum (retro matte)
SRP $16.50 US/$20.00 CDN
Lipglass
RiRi Woo cool red cream (cream)
SRP $16.50 US/$20.00 CDN
Pro Longwear Lip Pencil
RiRi Woo cool red cream
Talk That Talk dark plum cream
SRP $21.50 US/$25.50 CDN
Extended Play Lash
Gigablack black
SRP $17.50 US/$21.00 CDN
Liquidlast Liner
Pointblack black
SRP $21.50 US/$25.50 CDN
Veluxe Brow Liner
Deep Brunette muted blackish-brown
Deep Dark Brunette dark dirty chocolate
SRP $21.50 US/$25.50 CDN
Powder Blush Duo
Hibiscus Kiss cool coral blush and matte neutral bronze
SRP $29.00 US/$34.00 CDN
Powder Blush
Bad Girl Gone Good warm copper (satin)
SRP $23.00 US/$25.00 CDN
Cream Colour Base
Diamonds golden shimmer cream ( frost)
SRP $22.00 US/$26.50 CDN
Lash
36 Lash
35 Lash
SRP $17.50 US/$21.00 CDN
Brush
282SE Duo Fibre Shader
SRP $32.00 US/$38.50 CDN
187SE Duo Fibre Face
SRP $42.00 US/$50.50 CDN