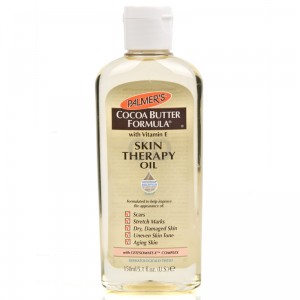 I love using a body oil after showering, because it makes for very easy moisturization. I slick on the oil when my skin is still wet, dab dry, and I'm ready to go without bothering with rubbing in body lotions.
Palmer's Cocoa Butter is expanding their line and one of the products they added was a lovely new body oil.
Upon reading the ingredients, I was not happy to see that the primary ingredient is canola oil which I buy in hefty containers for my kitchen.
But this oil also has Sesame Seed oil, which is super light, Vitamin E, Dimethicone, Cocoa Butter, and a light version of Palmer's original scent.
The oil is exceptionally light, and fragranced just enough to leave a whiff of something on my skin but not as overpowering as the lotions.
The oil is supposed to be used for stretch marks and the like, but I like to prevent all of that so I use it daily and will love it for the summer.
Get this at drugstores everywhere.