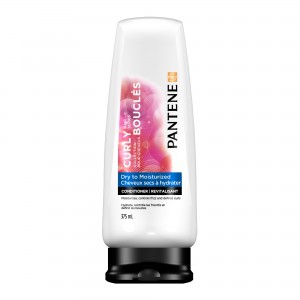 Pantene has been giving its product line a bit of a makeover and a slight updating, and though I couldn't figure out what the major differences were at first, I have to admit that I can sure see them now.  Where before, you had to choose just one condition for your hair, now they understand that your hair can be a mixture of different conditions.
For example, my hair is fine, curly, and dry – not just one of those. And so, though I didn't have many options before, now I can use Pantene's shampoo and conditioner for curly hair, that's "Dry to Moisturized" meaning that it will take my dry hair and moisturize it.
I have to admit, that the shampoo and conditioner are quite heavy, and for that reason I was worried that it wasn't going to work on my really fine hair.  But, the shampoo and conditioner ended up being just what my dry hair really need.  Instead of weighing hair down, the conditioner just moisturized it and made the curls really fresh and bouncy looking.  I found that I even needed less hair product after washing my hair because it became so moisturized.  Just a touch of serum was good enough.
The new Pantene line is already in stores and there's something for every hair type.