I'm love skincare products with active ingredients, and over the past year I've become a huge fan of Retinol, especially in a 1% or higher concentration.  Yes, I had lots of peeling and dry skin at first, but I've now gotten to the point that I can use it every day and if I notice that my skin is getting dry, I just use some coconut oil instead of the retinol for one night and everything seems to be just fine.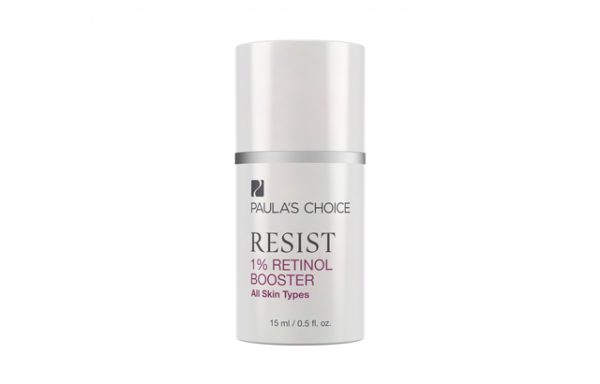 My latest find is Paula's Choice Resist 1% Retinol Booster.  Containing 1% retinol, this is called a "booster" because you can add it to your regular skincare to add a dose of retinol to it.  Of course, if you mix it with something then the level of retinol is going down, but it's a great way to introduce retinol into your routine if it's not already in there.  It's also a good way to still add some moisture into your skin with the retinol.
Truth be told, I use a big pump of this on its own and I love it.  It's a watery formula, rather than a creamy one, so it's not overly moisturizing, but it absorbs into your skin very quickly and you're good to go.  There's no scent and no tingling or stinging with this, but after a couple of weeks of use, you should see some results – that's how effective retinol is. 
Retinol helps exfoliate the skin more quickly, and by doing that, it makes skin smoother, more even-toned, less wrinkled, and even more firm.  If you're over the age of 30 and you've been noticing changes in your skin, this might be the product to add so that you can take care of that.  Better exfoliation can also result in fewer acne break-outs, but I find that when I use retinol, I still need to use actual anti-acne products on their own once in a while. 
If you're interested, read about my first experience with Retinol and what you can expect when you use it for the first time.
Paula's Choice is available online only.  The Resist 1% Retinol Booster is $52.