So many people ask me about hyperpigmentation either from acne, or from sun damage, and this PCA gel is one of the best – you can get it in a hydroquinone version or HQ free and it combines lactic acid with melanin-lightening ingredients to help your skin look blemish-free.  Updated link to purchase at the bottom of the post.
So I picked up the PCA HQ Free Pigment Gel.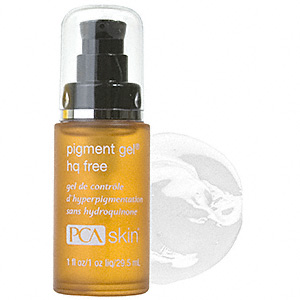 It works because it has Kojic Acid and Lactic Acid at the perfect pH and so it totally works on exfoliating my skin so that my tan would fade away.
I saw a great reduction in the tan from the very first time that I used it.  You should especially try this if you're wary of using products that have hydroquinone in them.  Though it's been known to be super-effective at lightening skin, it's also a controversial ingredient because some scientists don't think that it's completely safe.    Also, PCA makes a version of this product with HQ in it, and I have not yet tried that.  Not only will it take care of a tan you don't want, but it will also bring evenness to your skin.
Available through dermatologists and medical spas, or online.  $64