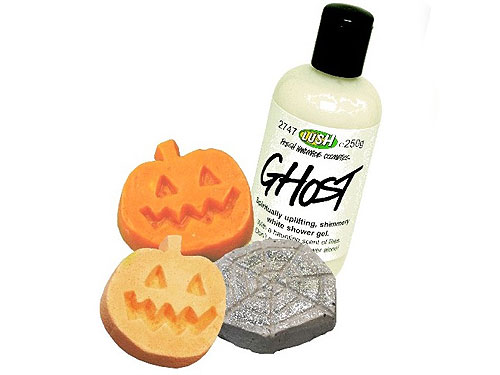 I find Halloween so gimicky and try not to indulge in anything too over the top.  Case in point: my "costumes" always end up being clothes I wear all year round.  This year's costume includes a plaid shirt and winter boots… I'm not saying any more.
But suprisingly, Lush's Halloween products have made their way over to my good side.  In particular, I've been using the soaps (Pumpkin and Lady Caterina, the latter of which is completely sold out) and the Ghost shower gel.
Each product is sublimely creamy and moisturizing and best of all, chock full of natural ingredients.  The Pumpkin soap has real pumpkin in it and smells like pie!  And believe it or not, all this is very indulgent and lovely in the shower, rather than being over the top and silly.
The Ghost shower gel has orchid infusion and rose water in it, and is so wonderfully feminine that it really should be around the whole year.
I would check out the collection online (Lush.ca) and order backups since these are limited edition products.