… or someone else that you know really well.
I'm talking about a toothbrush friends, because really this one is the best thing since sliced bread… I mean, I have a Sonicare and I'm thinking about switching over, because this one is so nifty and new.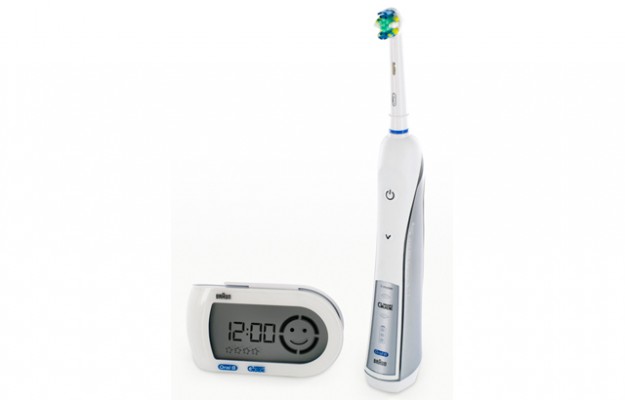 It's the Oral-B Professional Care SmartSeries 5000 with SmartGuide – as with all things these days, this one is a mouthful to say but it's totally worth memorizing the name.
OK, so what makes it so special?
The toothbrush comes with visual timer that reminds you to switch between different parts of your mouth so that you get a nice even clean.  There's not just the run of the mill beeping.  You actually get a digital display that you tack on to your wall, and it lights up when it's time for you to change to brushing a different part of your mouth.
It also tells the time.
But all that side, by FAR the best part about this toothbrush is that it actually beeps when you're brushing too hard, which – in these parts – is a Godsend, because yes, we do brush too hard, and despite bi-annual chastising from our dentist, it seems to be a habit that we just can't kick.  But now there's something that tells us that we're brushing too hard and we can do something about it!  Genuis!
At $185 this is not one of those cheap brushes that you replace every year, but it's worth every penny and will be appreciated by every vigorous brusher in your family.