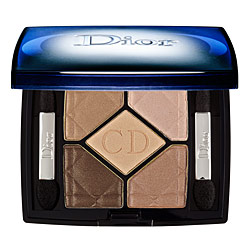 There are neutrals and then there are neutrals. Try your best to stay away from anything that washes you out too much, and definitely put away dark shadow for now. The look that I would go for this spring is pretty and light maybe brightened up with some black liner.
Dior has a fabulous new palette of neutrals that's well-worth checking out.  The quad this season is called Elegante and features light pink, golds, and beige tones along with a dark shimmery chocolate brown to accent your eyes.  Don't believe the commentors who say that this won't work for darker skin tones.  It most-definitely will and the colours look great used as sheer washes of colour as a day look.
This is the palette I'm reaching for most days.