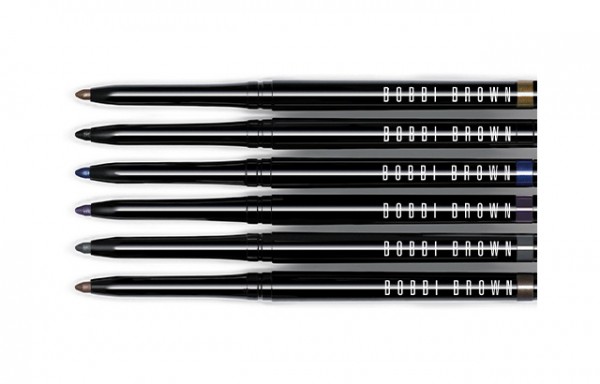 Have you been a fan of Bobbi Brown's Gel Eyeliner, but find that cleaning a liner brush on a regular basis is just not your thing?
Well now Bobbi Brown's Gel Eyeliner comes in a pencil form.
Called Perfectly Defined Gel Eyeliner, this liner applies with the ease of a pencil but has the lasting power of a gel eyeliner.
I have this liner in Chocolate Truffle which is a gorgeous dark brown. The pencil is smooth, very pigmented, and soft enough to get a straight line without any dragging.
And if you're a novice at doing a winged liner, here is the easiest way EVER to do it:
Apply the Perfectly Defined Gel Eyeliner on top of your eyelid, as close to the lashes as possible, extending slightly past your lash-line. Then take your CLEAN eyeliner brush and go over the line winging the outside end of the liner up and out.
Because a pencil is easier to use than a brush, you'll find that you can paint on the line smoothly, and don't have to worry about making the perfect wing. The liner brush will naturally do it for you!
This pencil sets very quickly, so it's important to do each eye fully: use your pencil liner, and then go over with a brush immediately! If you want to make the line darker, you can go over it again with the pencil, or dip your eyeliner brush in some eye shadow before you go over the line. I like using a clean eyeliner brush better, because I like the wing to be a little subtle, which is what you get with this method.
Other colours available are Black, Sapphire, Scotch, Steel Grey, and Violet Night.
Pick up Bobbi Brown's Perfectly Defined Gel Eyeliner at Bobbi Brown counters now for $28 or at BobbiBrown.ca.