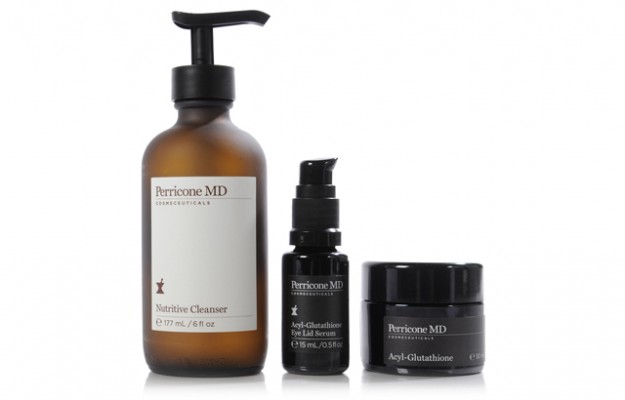 Dr. Perricone always makes well-formulated products that really work, and that's why we're excited about the Perricone MD Power of Glutathione Treatment System that's available on TheShoppingChannel.com.
For about $250 it's a great chance to try a high-end skincare line formulated especially for aging skin with ingredients that actually work. Separately, each of the products in the system would cost over $300 but the kit together gives a significant savings.
The kit includes a gentle cleanser, a moisturizer, and an eyelid serum. All the treatment products have an ingredient called Acyl-Glutathione in it, which helps take care of loss of elasticity, deep creases and wrinkles, and thin-looking skin. Though it is formulated for aging skin, this can be used as a prevantative measure as well, because Glutathione is an antioxidant that takes care of age stresses. If you're finding that your skin is more dull than you remember it being, then adding an antioxidant into your routine can really help.
The system is designed to show results in just 30 days. More than that, if you have dark circles under your eyes, you might be interested in the lid serum ($125) which has studies showing that 80% of users saw improvement in dark circles! 76% saw an improvement in creases above their eyes!
Pick up the kit online!