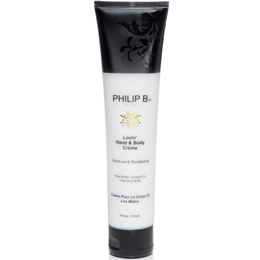 I've been using Philip B. Lovin' Hand and Body Crème on my hands religiously.
To be honest, I didn't like it at first.
It takes a minute too long to absorb into the skin and the scent was a bit bland for my tastes.
After using it for about a week, I'm pretty convinced it's one of the best hand moisturizers out there. Once it absorbs, the moisturizer isn't all greasy and it makes hands feel silky smooth. I also realized that the mild scent was likely a result of it being paraben free, a definite plus for those of you with allergies and strong reactions to smells. After a bit of research, it seems the Philip B line is all for results without any harsh detergents or fragrances. Instead, they use natural botanicals that are concentrated enough to be effective.
I can't wait to try more products from this line.