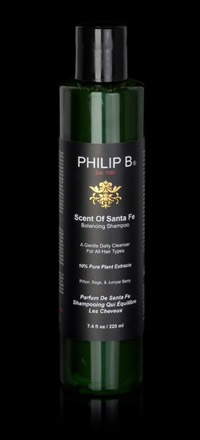 Shower time, is "me" time. I am one of those people who doesn't take a bath but I thoroughly enjoy my showers. I enjoy a good exfoliating cream, I enjoy the lathering and the scrubbing, and most of all, I enjoy my shampooing time. I never feel as fresh and rejuvinated as when I've just gotten out of the shower with freshly shampooed hair. I make the most of my showers, and any product that can help me do that is a winner.
Last night, I was blown away by Philip B. Scent of Santa Fe shampoo. It smells absolutely amazing! The scent is slightly herbacious and rejuvenating until you rinse it out of your hair. The shampoo formulation is gentle enough for every day and has left my hair so soft and shinier than ever. It must be the 10% of pure plant extracts that have done such a great conditioning job on my hair.
I can't wait to try out more Philip B. products, and you should too. You can purchase online, or check out their website for retailers. Absolutely worth checking out, this is one of the best shampoos I've used all year.