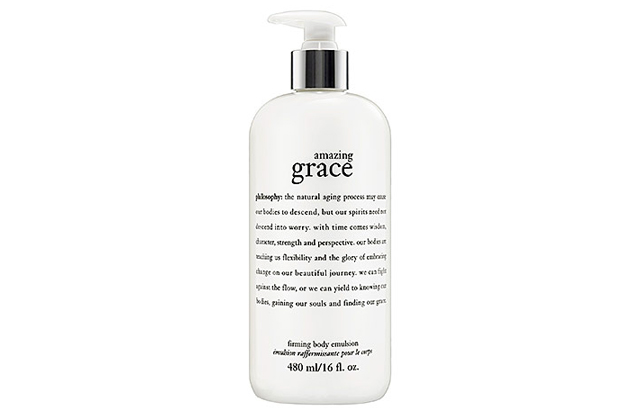 I did not experience any skin firming with the use of this body lotion.
But I have to admit that I don't expect that out of any lotion, and it wasn't really an effect that I was looking for.
That said, you absolutely need to try Philosophy's body lotions!  They are some of the most hydrating and nicely formulated products in existence!
Amazing Grace is nice and light – just like its clean scent – and it absorbs into skin almost immediately and leaves it nice and soft.  Skin stays hydrated through the day, and stays hydrated.  I'm not a huge fan of the Grace line of scents normally because they smell a little too clean for me, but I love the scents in lotion format.  I love the nice clean scent on the rest of my skin – it tricks me into thinking that I've just had a shower, and if I have just had a shower, then that's even better!
Amazing Grace smells kind of like laundry detergent, and that's a good thing.  It's superbly clean, slightly clean, water-like, and beautiful.  There's no sweetness, and you kind of forget about the scent after a while, which is not altogether bad.
$44 for 16oz.