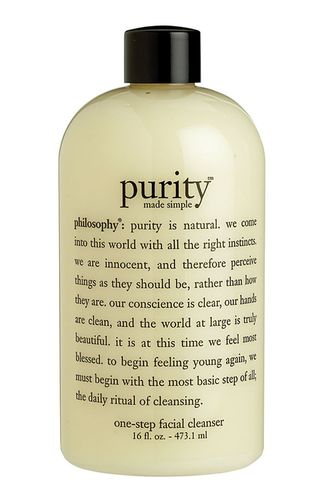 Philosophy is now easily available in Canada and that means that we can try some of their award-winning and super hyped products.
One of those is the Purity Made Simple cleanser which is formulated for the most sensitive of skins, but is also strong enough to remove any kind of makeup.
I've been using the cleanser for the past few weeks, and I have to say that I am thoroughly impressed. A tiny bit of the cleanser goes a long way. I use about a nickle sized amount in the palm of my hand, and use my fingers to rub it thoroughly all over my face. I even get it on my eyelids and really rub into my lashes to get all the mascara off. It doesn't irritate my eyes at all, and it dissolves absolutely any kind of makeup. The best part is that although it's made with lots of essential oils, it washes completely clean and leave skin super soft.
This is a creamy cleanser that does not foam, but I would not call it a moisturizing cleanser at all. It left nothing on my skin and so it wasn't moisturizing. It would be suitable for all skin types including oily because ti does wash clean. I follow up with a scrub on the days that I need it, but other than that, I think this cleanser is good on its own.
Pick it up at Sephora, which has always carried Philosophy products, and at The Bay. It is $26 for 8 oz.