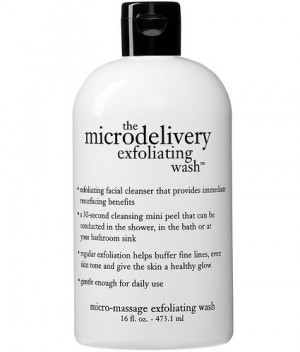 There are a few really nice things about Philosophy's Microdelivery Exfoliating Wash. This exfoliator was actually recommended to me by the Sephora girls, who absolutely raved about it so I was really excited to try this exfoliator.
The first is that there are no jagged edges in the exfoliating beads, which makes for a nice, fairly gentle scrub. They don't dissolve though, so if you press too hard the scrub can be too abrasive, at least for me. I personally think that this scrub is a little too harsh for daily use, so I like to use it every other day instead of every day.
The girls at Sephora also recommended using the scrub in the morning, which was a change from my usual night-time exfoliation, but I found that doing that just meant that I had to use more foundation because my skin would be slightly irritated from the scrub. A week of that and I went back to using the scrub at night, which makes more sense to me anyway because it helps your night-time serums and creams to better absorb. The absorbing power of these types of products is better at night in any case because your pores open while you sleep.
I also like the neutral scent of the Microdelivery Wash, although not everyone does. It's free of any fragrances so it leaves your skin pretty scent-free. It's not at all drying, so your face doesn't feel tight or dry when you're done, which is a big plus.
You need a little less than a quarter size blob for your entire face and neck, so really the 8oz bottle lasts quite a long time. It's an excellent run for your money, one of my favourite scrubs to date.
$26CAD for the 8oz bottle at Sephora.