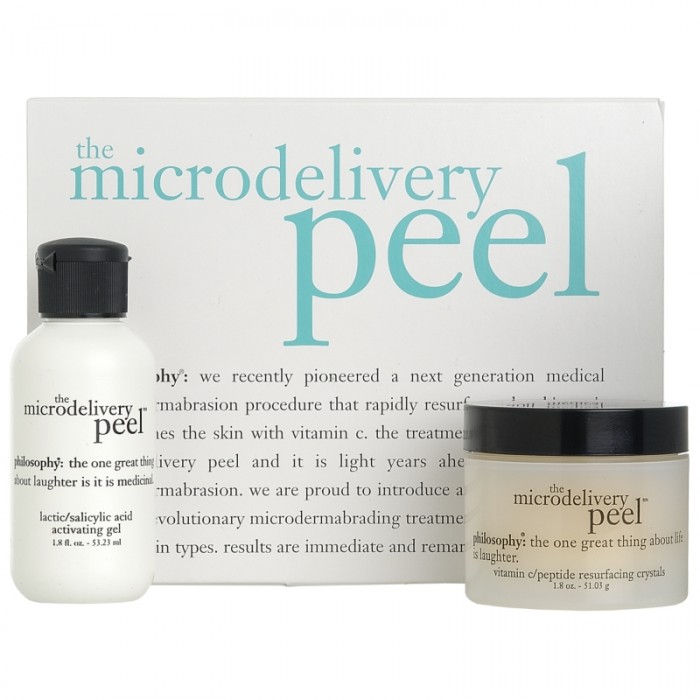 This is the best peel kit that I've reviewed in a long time, and what's so awesome about it is that it's totally different than anything else out there.
Philosophy's the Microdelivery Peel kit comes with a jar of exfoliating crystals, and a lactic acid solution.
The crystals are made up of baking soda. I hear Lauren Conrad uses something similar on her skin. If you've ever tried a baking soda scrub, then you know that it is something powerful. Those crystals really can scrub and will take care of everything on your skin. The key to using them is to massage gently into your skin instead of rubbing it hard. That way you won't end up with an overly ruddy complexion and won't do any damage to your skin.
Philosophy then has a lactic acid gel that you put on top of the crystals. You'll feel a warming sensation as the two mix and foam, and the crystals will dissolve into this gel. You leave that on your skin for a couple of minutes and then wash the entire thing off.
The final reveal is glowing super smooth skin that you can feel with your hands. You will immediately see that your skin is softer, smoother, and more even toned. Use it regularly and you will maintain that look!
I followed up the entire process with some vitamin C serum on my face, and I have to admit that I felt a slight stinging sensation that lasted for about an hour. Clearly, the Vitamin C was overdoing it but now I'm at the point that my skin has built up tolerance for the whole system and there's no stinging or burning at all. Clearly, this kit is not recommended for very sensitive skin, and if you do want to use it, make sure that you don't do right before a big event. Professionals recommend that you do peels and kits such as this one about 2 weeks before the event so that you have time to recover from adverse reactions if any.
That said, if you're like me and have pretty resilient skin and are used to applying lactic acid on it, then you will love this kit. It can really take your skincare routine to the next level.
Pick up Philosophy products at The Bay, Sephora, and other stores.  The brand is known for yummy smelling shower gels, but the skincare products are amazing!