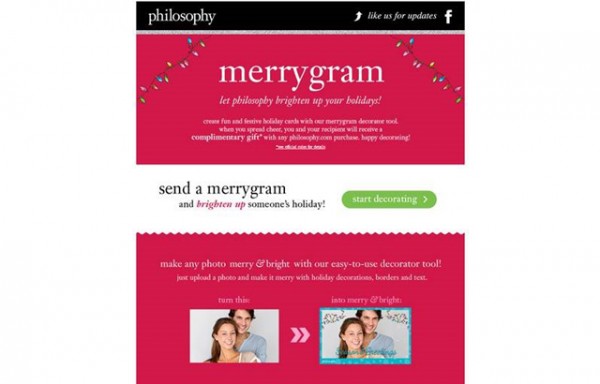 If you follow me on social media then you know that I'm a sucker for Philosophy skincare products.  They work hard and are actually not as expensive as prestige skincare.
Now, Philosophy has a new Facebook app that makes giving holiday cards easier – you can create and send them on Facebook using Philosophy's Merrygram app, or use Facebook itself to send them.
Truly, Philosophy says it best themselves:
users can create a personalized holiday card, to share with their family and friends. Once users have logged onto to the merrygram Facebook App and uploaded a photo, they will be able to customize their card with a festive background, holidays accessories, frames and more. The user then clicks to share their philosophy holiday card and personal message via email (up to 10 recipients) or Facebook (one user at a time).
After you share the card, you get a voucher for a free gift of the award-winning purity made simple skin cleanser, which is redeemable in store. Recipients of the merrygram will receive an email or direct Facebook message with the merrygram card and gift.
The offer ends December 11th, which is enough time for you to get some cards out, and try out a Philosophy cleanser as part of the deal!
In the meanwhile, here's a chance for you to win some Philosophy products for yourself.  I have a Philosophy gift pack that includes:
– Philosophy Cozy Christmas Set (Vanilla Jasmine Shampoo, Shower Gel & Bubble Bath and Body Lotion
– Philosophy Peppermint Stick High Gloss, High Flavour Lip Shine
– Philosophy Have a Cherry Christmas High Gloss, High Flavour Lip Shine
– Philosophy Amazing Grace Layering Set
All you have to do is tell me what you REALLY want for Christmas in the comments! I will pick a winner next Monday, December 8th.