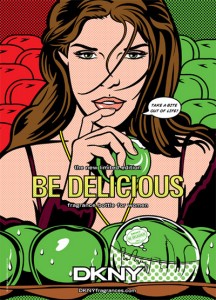 Check it out: DKNY's Delicious fragrance will be available in a collectible pop art bottle this fall.  There will be advertising pop art by artist Brad Hamann, as well as a pop art comic strip that will be handed out at the perfume counter.
Pop Art began in the 1950's and became popular in New York City in the '60's.  Andy Warhol is perhaps the most iconic pop artist and last year Bond No. 9 introduced Andy Warhol-inspired fragrances in Pop Art-inspired bottles. Expect to see more pop art throughout the fall and next year!
The Delicious Art Limited Edition EDP will retail for $70 for 3.4 oz.