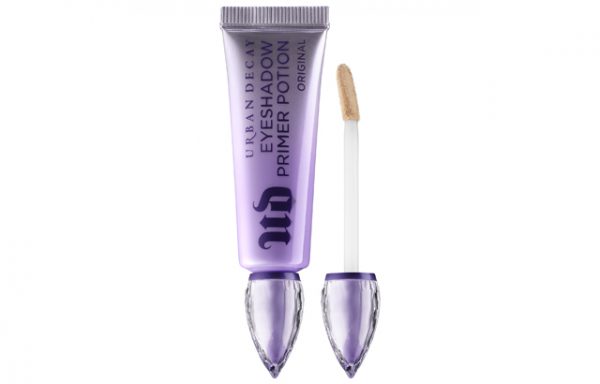 I first tried Urban Decay's Primer Potion (eye shadow primer) when I was at the airport. I figured that if it could hold up for an 8 hour flight, then it would be good for everyday too.
Well it didn't let me down. I had often suffered from creasing eye shadow, especially on long days, and this is the only thing that's stopped that, and trust me, I've already tried everything else out there.
Fast forward 11 years, and this is STILL the way that I prep my eyelids for shadow, liner, or whatever else is going on!  The fact is that it just makes my makeup better, and I like to think that I was using it before anyone else, but since this blog has united me with so many other beauty fans, I now know that EVERYONE loves this too!
Some people complain that the amount in the tube is too little, but I've found that a little goes a long way. You just take the wand and literally dab a smidge on each eyelid and then blend it using your finger. The potion doesn't leave a colour and your eyeshadow will go on nicely afterwards and will even be more pigmented.
These days, I actually like to put some face powder as a base on top of the Primer Potion, and then go to my eyeshadow.  It blends better, and the colour is more subtle, which is what I've been enjoying more of lately.
Oh, and I use the original – I find that my shadow smudges and creases a bit more with all the others so this one is my favourite.