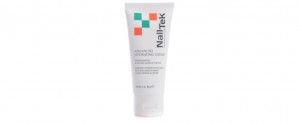 My hands get so dry that having a hand cream on my desk is absolutely essential, but also essential is that I'm able to pick up a pen and write after I've used said hand cream!
But now, I don't have to choose one of the other. I've found a product that leaves my hands literally powdery dry. It's the Nail Tek Advanced Hydrating Creme which is available on TheShoppingChannel.com. This creme is formulated to keep moisture in and works with water to keep your hands moisturized. That means that if you wet your hands, you'll come out with them more moisturized rather than less, which is kind of cool!
The ingredient list includes water and triglycerides, but also dimethicone which is what absorbs all that extra grease and keeps it locked in instead of on your hands. I love the powdery texture that this leave on my skin, but I also love that I get instant relief from the dryness that my hands were experiencing.
The Nail Tek hand cream is an extremely affordable $12 and on TheShoppingChannel.com.