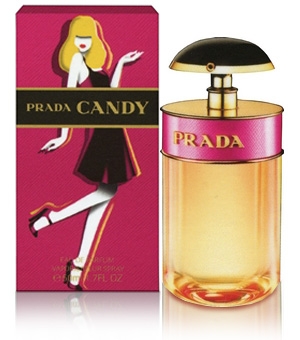 The newest launch from Prada is Candy, which even had me shaking my head.  I hate gourmand fragrances, and I had visions of some kind of chocolaty knock-off in a Prada bottle.
But this is different, it's lovely, and best of all, it's a gourmand that's not for teeny-boppers.  The scent is totally wearable, and my mouth didn't water when I first smelled it.
Prada Candy supposedly came out of a specific request from Miuccia Prada for a scent with a caramel note.  So the perfumer delivered, adding Benzoin to a scent that ends up being very similar to the original Prada Amber perfume.  Benzoin is a sweet note that comes from a sap, and this scent has 12% of it, reportedly the most ever put in a fragrance.
The scent has woody notes, and those reminiscent of vanilla.  It's not overly sweet on the skin but it still reminds you of candy, which is the point.  This is expensive candy, that's for sure.
Prada Candy is a great scent for the fall.  It's not one that I reach for on most days, but I keep it in the rotation, that's how much I like it.  It's definitely a good kind of gourmand to have in your collection.
Pick it up at department stores now.