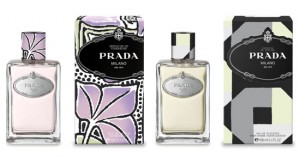 I adore tuberose fragrances, and I've been an even bigger fan of of the Infusion line of scents from Prada ever since they came out.  The scents are light and easy to wear, but that doesn't mean that they fade away into nothingness.  Scents lie close to the skin, warming up to the wearer and giving subtle hints of perfume.  Prada Infusions line is adept at doing this and so is among the best scents available.
Infusion de Tuberose is based on the 6th exclusive Prada scent that was only available at special Prada boutiques for some time.  Infusion de Tuberose features notes of Indian tuberose, petitgrain bigarade, blood orange and dynamone.  What I like most about this perfume is that it's not an over-powering tuberose scent.  It won't hurt your nostrils or your throat in the way that tuberose sometimes can, and here it's used as a top note rather than a base note which can make it overly fragrant.
Spray the scent and what you'll first get is tuberose… but the drydown warms up considerably and you get the dynamone which is more warm and almost like amber.  The scent kind of reminds me of warm wet skin for some reason, and it goes so well with the tuberose because it's evocative of springtime flowers.  I have not been able to stop wearing this perfume since I got it, and want to spray it on everything, but the fact is that it really works best on bare skin and not on clothing or hair.
The Infusion line also has a male counterpart this spring, and that is Infusion de Vetiver.  It includes notes of tarragon, vetiver, Madagascan pepper and purple ginger and is an amazing male spa-like scent.  It's also light yet fragrant in just the right way.
Both these scents are available this April at Holt Renfrew, and then will be available at department and drug stores in May.  They are $115 for 100 mL.