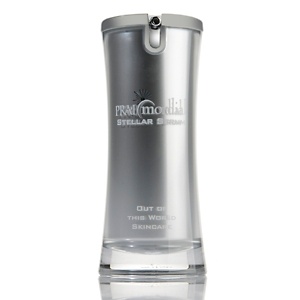 Prai Mordial Stellar Serum has an admittedly cheesy tagline: "out of this world skincare."
This tagline comes from one of its ingredients, iron rose crystal, which is derived from Hermatite that is found on Mars. Of course the actual ingredient in the serum isn't from Mars, it's from Brazil.
Other ingredients include Trylagen, a peptide complex and D-galacturonic acid to hydrate skin as well as NuLastic Silk to time-release key ingredients.
I actually didn't know any of this before I did a bit of background reading for this review, and a few of these claims sound a little fake. That doesn't mean the serum doesn't work though!
The serum is sort of a cross between creamy and silicony, and you really only need one pump for your entire face and neck. It does a really good job of hydrating the skin and creating sort of a seal between your skin and whatever you plan to put on it next.
You do need to let it absorb for about 3 minutes, and it has a little shimmer in it that doesn't dissipate. I like to use this under foundation because the foundation sort of dulls the effect of the shimmers, making skin seem dewy, but not glittery. It also smells nice, like clean laundry.
The serum hydrates skin and makes fine lines disappear a little. It's not the usual kind of pore minimizing serum that I like to wear under foundation, but it does a lovely job nonetheless.
Available for $39.95 at TheShoppingChannel.com.