Dior always has my favourite polish colours, and this March, you'll be able to find this one on Dior counters. It's Rose which is a pretty pink with gold shimmer.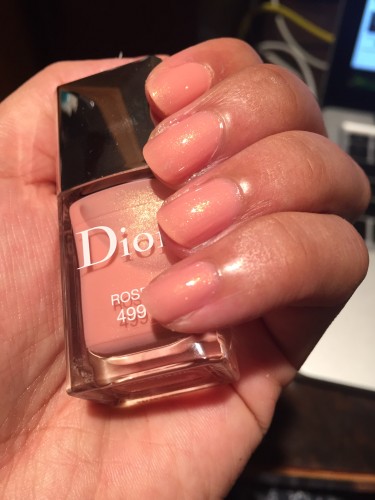 Part of the Dior Rouge Brilliant launch, this colour is will be limited edition, while the Rouge Brilliant lip glosses will be permanent to the line.
Rouge Brilliant will come in 12 colours. The gloss is very pigmented and comes with a unique applicator. It's precise (which you need since the pigment is so rich), but also has a kind of well in it so that it collects gloss and you get plenty of product to apply to your lips.
Colours are called:
Swan (263)
Paname (310)
Miss (359)
Bonheur (468)
Hollywood (688)
Times Square (760)
Rose Harpers (766)
Darling (775)
Victoire (808)
Royale (858)
Soho (888)
999 (999)
What I love about these glosses is that not only are they pigmented, but they are super hydrating. Dior says that they have collagen in them to plump up the lips, but I have to say that what I notice is that my lips are so hydrated and glossy that they look amazing. They are buttery to apply and leave your lips feeling buttery when the gloss has worn off.
Pick up these glosses ($39) and the nail polish ($28) at the Dior counter March 1st.