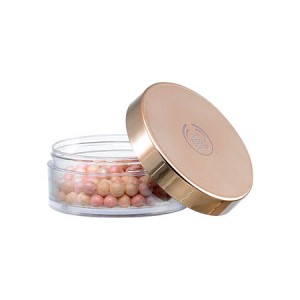 Did you know that The Body Shop makes some of the best sparkly products on the market?  I've tried their highlighter stick (which I wish came in gold), their Cranberry body highlighter (which I wish came in bronze), and I simply adore their body and leg shine (which is out again for this summer!).  Now I love their brush on radiance.
It's a shimmery glitter that's a mix of peach, pink, and gold highlights.  The colour is pale so if you're medium-dark, you might want to be careful with how much you use.
I like using this under my blush because it gives my cheeks a pretty sheen.  Use it with a large Kabuki brush and it's perfect on your arms and legs in the summer as well!
One pot will last you a long time, so enjoy!