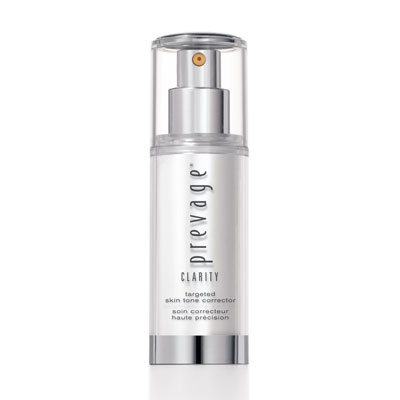 I kind of love the tag line of Prevage.  It is "Proof… not Promises".
I like the tage line because all the Prevage products that I have found so far have been impressive.
Add to the list, Prevage Clarity which is made specifically to reduce dark spots and to make skin more even toned.  It promises to do this within 2 weeks, and without using anything harsh on your skin.  It is not a typical lightinging product, because you won't have any peeling, flaking, or redness.
Prevage Clarity is formulated with Idebenone and Soy-Ferulate-C.  Vitamin C has been proven to make skin tone more even, and to help fade freckles and sun spots.  I used to have an aunt who rubbed half a lemon on her face once a week and it lightened her complexion.  I tried it once and it stung my skin so badly that I never tried it again.
But Prevage Clarity says that it will give you all the positive effects of using Vitamin C, but without any of the stinging or harshness of straight up lemon juice.
Since Prevage Clarity reports that most women saw results after 2 weeks, I figured that it's only fair that I give you my results after 2 weeks.  I have used this every morning before applying my sunblock.
Clarity is extremely lightweight, and kind of like a serum lotion.  It's shimmery so after applying it, your skin automatically looks better.
But, it works so well that after a week of use, I could see that it had had an effect on my face and that I needed to apply it to my neck and chest as well so that everything would be as glowy as my face!  I am tempted to use this on my hands too, but 1 oz is $125 so I think I better not.
Studies done with Clarity have said that after 12 weeks of use, skin imperfections appear minimized and less intense.  I am hoping that will be the case for me as well, and so I'm going to continue using it.