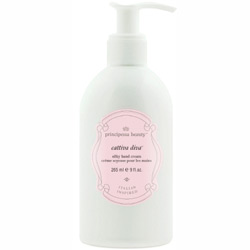 When I moved to Calgary, lots of friends recommended Principessa products to me.  The company is a west-coast one so it's really popular at little beauty boutiques in the area, and people especially seem to love their lip balm.
Well, now I can say that I'm a convert too.
I've fallen in love with Principessa's Cattiva Diva Silky Hand Cream.  It's light and absorbs quickly, but what I love is the scent.  It really smells like an expensive perfume, and after using it once today, I can't stop sniffing my hands.  They smell like a floral musky blend and as I type this I can smell the cream even though I applied it hours ago.
You can get Principessa products from their website.