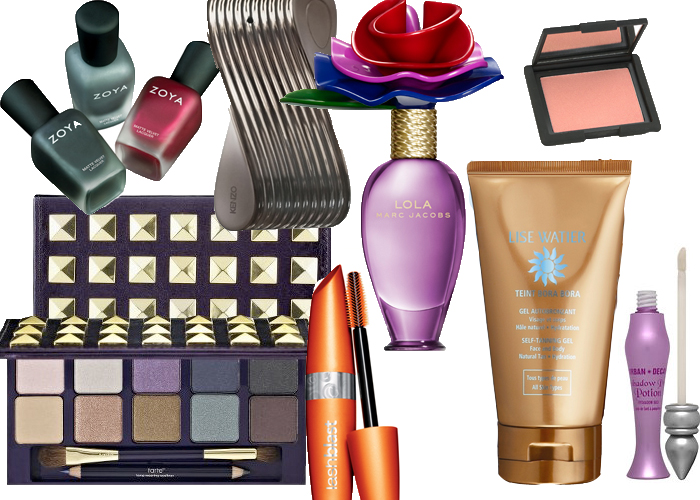 I wanted to share the products that I recommended to my friends at the spa party I held recently. I have to say that I was surprised that some of my friends just weren't aware of all the great brands available at their local Sephora, like Ojon, Urban Decay, and Canada's own Cargo!
So many people ask me how they can get eyeshadow to stay, look good, show true colour. Urban Decay Primer Potion does the job. If you're wondering whether there's any other primer that will work, check the ingredient list. Isododecane is the key ingredient.
We did masks and oil absorbing masks were a huge hit. Clinique's Oil Control Cleansing mask especially was one that a lot of people wanted to try and seemed to like.
Zoya nail polish was a huge hit, especially their matte colours.
Everybody wanted to get their hands on the Tarte Femme Fatale palette because of the range of shades it has. If you want to play and experiment with colour, you need this palette.
I recommended the Lise Watier Bora Bora self-tanners to a friend who wanted to be more tan. Self-tanning is safer than a real tan and you should at least gift it a shot before you head to your local tanning salon.
Speaking of Lise Watier, their packaging was a huge hit with a lot of the girls. They just loved the compacts, eyeliners, and lipsticks.
A friend of mine loves Marc Jacobs, so I offered her a sniff of Marc Jacobs Lola. She said it smelled like me (even though I wasn't wearing it then). I thought that was interesting.
The girls also commented that the bathroom smelled really good. Little did they know that they were smelling Kenzo's UFO because I had sprayed it earlier that evening and the scent was lingering in the air.
I made everyone try on Nars Orgasm blush. It truly does look pretty on every skin tone and is a great pick-me-up for your face!
Lash Blast. I put it on almost all the girls and that's all I'm going to say. If you haven't tried it you don't even know what you're missing so just try it.