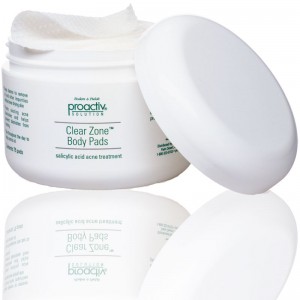 Fall is always a time for renewal, and one of the ways that I like to do that is by incorporating glycolic acid products back into my routine since I'm no long spending time in the sun.
I discovered that Proactiv's Clear Zone Body Pads have Glycolic Acid as a main ingredient and since they're recommended for the face and body, they were pretty much perfect for me.
The pads are huge: 3 inches wide, so they fit easily into your hand and can be used to wipe any part of your body.  I found that one pad was good for my face, neck, and chest.
Though there's glycolic and salicylic acid in the solution that's on the pads, I didn't feel any stinging or burning when I applied them.  I think that since I hadn't used anything with those ingredients in quite a while, my skin wasn't sensitive to begin with and that's why I didn't even feel a tingling.
I used the pads on my face, but I didn't notice much of a difference.  I also used them on the KP on my arms, and that's the area that saw the most improvement because of the pads.  I have to say that my KP is noticeably diminished and the Clear Zone Body Pads are the only product that I've ever tried that's made a difference on it.
The pads come in a jar of 75 and retail for about $25 depending on where you get them from.  They totally do work and have all the active ingredients you need to help your skin look better.