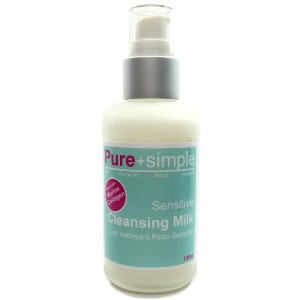 When I had a facial at Pure and Simple Spa this summer, I fell in love with their skincare products.  I love that they are formulated for sensitive skins – and Pure and Simple assumes that almost all skins are sensitive.  If you ever break out then your skin is reacting to something, and that's what Pure and Simple wants to address.
I've never been one for cleansing milks – for the most part I like a really nicely scrubbed clean – but I've been blown away by Pure and Simple's Sensitive Skin Cleansing Milk. It's got a smooth creamy texture and it just slips on to your skin and literally melts any makeup and impurities.  They dissolve into the cleanser which then washes off cleanly to leave you with fresh and radiant skin.
The cleanser works well for all skin types because it's not foaming, so it's not going to dry your skin out.  However, it does wash clean away so your skin doesn't break out or react to any of the ingredients.
You can of course get this at any Pure and Simple Spa location, or you can pick it up online on the Pure and Simple website.