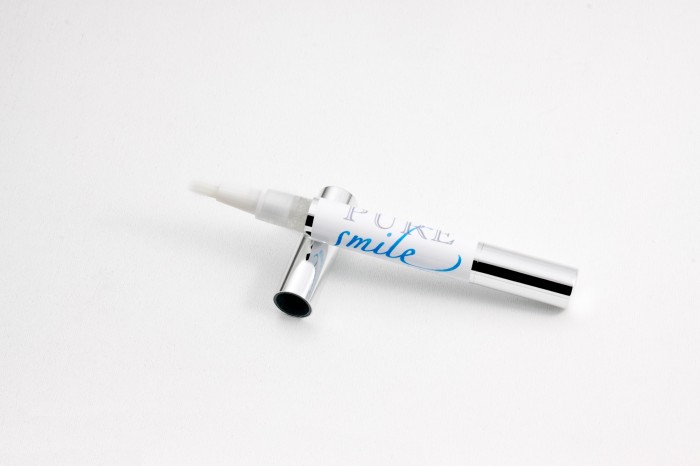 I love teeth whiteners.  I always get compliments on my smile, and although I know that it's partly because of my straight teeth, I know that it's also because they are on the white side.  I don't use whiteners all the time – I do have an Oral B. Sonicare brush and I brush 2 – if not 3 – times a day with Crest Pro-Health toothpaste, and I know that makes a huge difference. But teeth whiteners give me that extra oomph when the regular routine isn't cutting it.  I usually use them before special occasions when I know pictures are going to be taken.
Most recently, I tried Pure Smile Teeth Whitening System.  This is a pen that's filled with gel and it's probably the most easy to use system I've tried to date.  After brushing, you apply the gel to your teeth, leave on for 60 seconds, and then rinse your mouth.  It's really that easy and that quick!
I used it morning and night and I saw results after one day.  I could see that my canines – which are darker in colour and generally hard to target – were now the same colour as my other teeth.  I kept using the pen, and after about a week, it had run out.  But that was ok.  My teeth were super white, and I really felt that the investment in time was well worth the result that I got. I didn't even have any tooth sensitivity when I used it.   This was easy to work into my routine – easier than white strips, and definitely easier than a gel tray which is quite cumbersome.
Pure Smile may not have big money or heavy marketing behind it, but it's amazing, and I'd recommend it to everyone.   Pure Smile is a Canadian product and retails for $50 on www.PureSmileStudio.com.