My hair is super dry – especially in the winter – and so cleansing conditioners are totally my jam.  I use them when my hair's not super oily and just needs a light cleansing after a workout.  I'm really just trying to get out the salt and sweat at my roots but don't want to dry out the rest of my hair.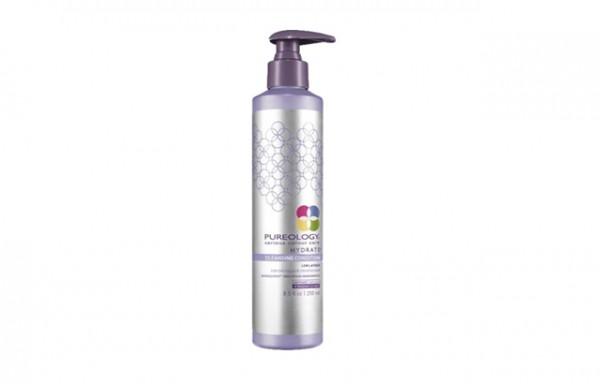 Pureology's Hydrate Cleansing Conditioner is what I'm reaching for these days.  It feels just like a conditioner, not a shampoo, but it definitely makes your hair cleaner and shinier – as if you'd just shampooed it.
Pureology has three kinds of cleansing conditioners: Hydrating, Strengthening, and Smoothing.  It goes without saying that they're all super gentle on your hair and because they are so gentle, you can't really go wrong with either one.
If you've never used a cleansing conditioner, know that they're almost like a cream cleanser that you might use on your face.  They dispense as a cream, and you use a copious amount on your scalp to get rid of any dirt or grime.  They're not usually volumizing or deep cleansing because they're heavier than a regular shampoo, and they don't usually lather a ton although some do lather a bit.  Wen is one of the better known cleansing conditioners and that brand really works for some people who have very dry hair.  They're a fantastic option for controlling frizz and taming unruly hair without putting too much product in it.
For the record, I usually follow up with a regular conditioner – these days it's the one that comes with my Perfect 10 hair color and it makes my hair even more shiny.
Pureology is always made for color-treated hair, and is one of the first lines to come out with sulfate-free products.  They are also 100% vegan.  All the formulas have an aromatherapy bent to them and so they smell amazing.
About $37 at salons.