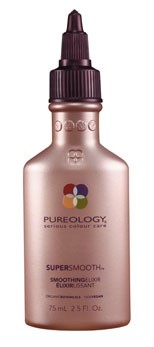 Pureology's Super Smooth Smoothing Elixer came as part of their Super Smooth line and has oils of camelia and sesame to help give your hair shine as well as condition it.
The elixer is mostly a silicone based serum, but it's very thin and light, unlike some serums which can be gummy and sticky. This one seems to absorb into the hair very quickly, and helps give hair control and balance, while protecting your styling from the elements.
Use this while your hair is wet, and a tiny amount goes a long way. I used it and found that it really made my curly hair much softer and the curls were better defined.
Like all Pureology products, this one smells amazing… quite powdery and floral which is a winner for me. Pureology products are sold only at salons.