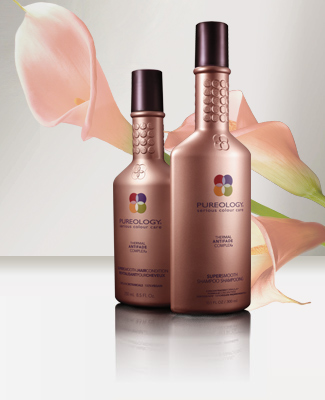 I've always loved Pureology's Sulfate-Free Shampoo and Conditioners, because they bring gentle cleansing to my hair.  Of course, they also smell amazing and the scent lasts in my hair, which is great.
Pureology's new line is their SuperSmooth System which is designed to smooth the hair and make it less frizzy by moisturizing it.  The line contains Camellia Oil, Sesame Oil and Organic Shea butter to leave hair softer and smoother to the touch.  I've used both the shampoo and conditioner for a week now, and I love them both, but especially the conditioner.  It's like smoothing cream through your hair – the texture of it is so soft and creamy and its left my hair feeling much more hydrated and smooth.
Even better is that both products are great for color-treated hair and are made so that they protect your colour intead of causing it to fade.  In face, all products from Pureology are created to do that so you can pick anything to work for your look at have great colour at the same time.